ORI AND OCA NUMBERS
ORI is an Originating Agency Identifier Number
The ORI number is the digital address where the fingerprint results need to be sent by Omega Live Scan. It is a requirement to have the ORI number before submitting fingerprints for background screening. Your employer or the regulatory agency you are seeking licensing from can supply the correct one to you. You must provide this information to Omega Live Scan. We cannot be responsible for supplying this to you. All submissions are final and cannot be resubmitted or changed without additional charges.  It is vital to have this information with you when you visit our office.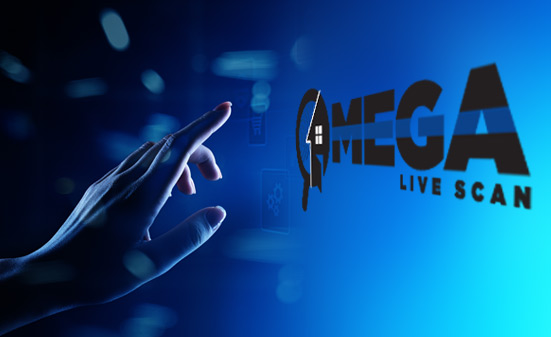 OCA is the Controlling Agency Identifier Number provided by DCF.
The OCA number is the numeric designation for applications to AHCA, DCF and Medicaid. This is their assigned agency number – not a license number. Medicaid applicants should have their Medicaid number. These specific numbers allow the regulating agency to review which entity is requesting the applicant's fingerprints.
For example, in order to be fingerprinted for DCF, you must have both the ORI and OCA numbers with you. FDLE will not process our request for fingerprints without having this OCA number. Your employer or regulatory agency will have this information for you. Results will be sent to the agency directly typically in 3-5 business days. If you would like to search your transaction after this period has passed, please click on the SEARCH TRANSACTION link or contact FDLE directly at 850-410-4161.
PARTIAL LISTING OF ORI NUMBERS
EDOH4590Z DOH Hearing Aid Specialist
EDOH4600Z DOH Massage Therapy
EDOH4610Z DOH Medical Physicist
EDOH4620Z DOH Midwifery
EDOH4630Z DOH Naturopath
EDOH4640Z DOH Nursing Home Administrator
EDOH4650Z DOH Occupational Therapy
EDOH4660Z DOH Opticianry
EDOH4670Z DOH Optometry
EDOH4680Z DOH Pharmacist
EDOH4690Z DOH Physical Therapy
EDOH4700Z DOH Physician Assistant
EDOH4710Z DOH Psychology
EDOH4720Z DOH Respiratory Care
EDOH4730Z DOH School Psychology
EDOH4740Z DOH Speech/Language Pathology
EDOH4580Z DOH Electrolysis
EAHCA790Z Managed Care All
EDOEVR100 Vocational Rehabilitation Vendor Registration Employee
EDOEVR200 Vocational Rehabilitation Independent Living Employee
EAHCA013Z Medicaid Florida Medicaid Providers and Enrollees
VDOEVR100 Vocational Rehabilitation Vendor Registration Volunteer
VDOEVR200 Vocational Rehabilitation Independent Living Volunteer